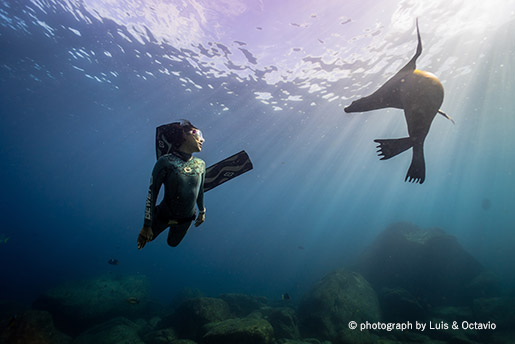 2017/01/01.Sun. 6:06
Honing the Sixth Sense to Express the Underwater Miracle of Life Vol.1
Underwater Artist
Ai Futaki
Born in Ishikawa, Japan in 1980. Ai's unique presence as an "underwater artist" has garnered much recognition around the world. Her "expressions" are born entirely through the act of free diving, as she shines light on the underwater world as filmmaker, model and presenter. She holds the 2011 Guinness World Record for the "Longest Distance Swam in a Cave with One Breath", in which she became the first woman globally to swim with fins for 100 meters and without fins for 90 meters. She is a presenter for the NHK television program "Precious Blue" and numerous media programs, and also gives lectures and free-diving tours.
http://aifutaki.com/
Vol.1
Unseen Treasures to the Human Eye
Did you come up with the title "Underwater Artist"?
Yes, an underwater artist is just as it sounds. It's someone who expresses him or her underwater. My style of expression ranges from shooting footage and photographs to modeling, performing and hosting television documentaries, all done underwater. My expression also takes on the form of lectures and free-diving instruction.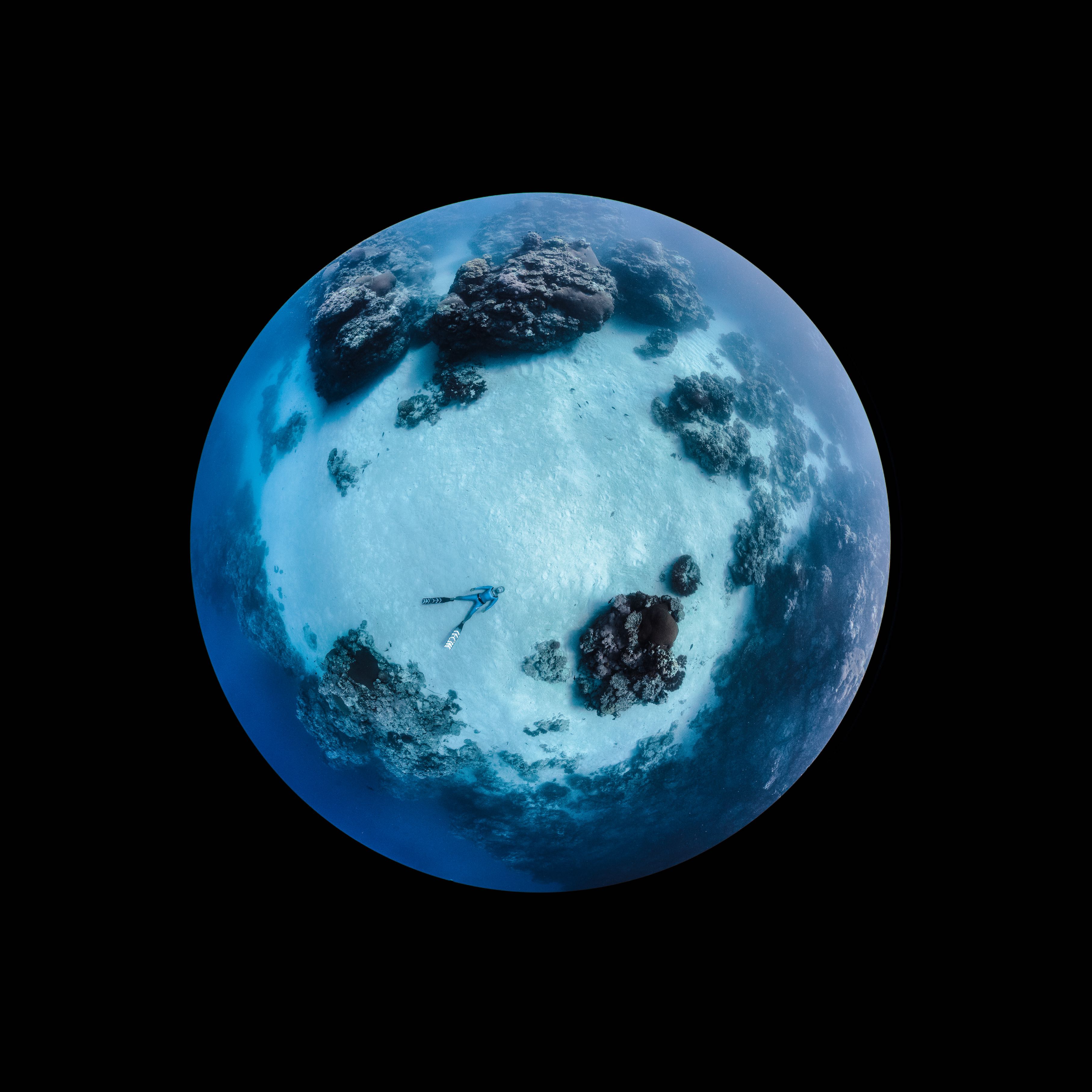 © photograph by Darren Jew
How did you arrive at the title "underwater artist"?
Originally, I was a documentary filmmaker gathering underwater footage. But I felt I wasn't capturing all I wanted to express, and because there was no one else around, I decided to include myself in the shots.
At the time, however, I was just an unknown free diver. No matter what I did, it seemed to me like self-satisfaction…which is why I decided to try for the Guinness World Record.
I grew up as a competitive swimmer, so there was no issue with the swimming. I paid out of my own pocket to take on the world record-breaking challenge, hoping to capture the title of "world's first" as one form of expression.
After I officially became world-record holder, I spoke on stage at TED x Tokyo, which led to my appearance on (popular Japanese documentary television program) Jounetsu Tairiku. Little by little, I gained exposure in the Japanese media.
I currently take part in two types of underwater filming. The first is for my own works, which can be viewed on my website. The second is for television commercials and programs, such as the aforementioned Jounetsu Tairiku and on NHK Broadcasting. In some cases, I'm approached to appear in these programs. In others, I plan and pitch various media outlets from scratch.
What is your message as an underwater artist?
My main message is that we are all connected to nature. Each of us is a part of the earth, a part of nature itself.
Before we were born into the world, every one of us began inside our mothers' wombs, in that great sea. To that end, I believe the underwater world is the foundation of who we are. In communicating that world to others, I'm hoping people will remember where it all began, and also feel that which cannot be put into words. It's an expression that doesn't need words.
Words don't make sense underwater, and there is no fooling anyone or any creature. We must be completely honest with our surroundings and the "life" in that environment. I take on this "underwater expression" using just my lungs so I can be in my most natural state, just like the animals I encounter. In the beginning, I used to put on scuba diving gear and film, but the breathing sounds were loud, and the exhalation also created bubbles. That scared the creatures away. We're able to stay underwater longer and observe with the help of man-made equipment, but there was something alienating about it. I'd always felt a sense of isolation, that something wasn't quite right.
When I hold my breath and dive into the ocean just like the other mammals, I can sense the animals viewing me as different, but also accepting me as some kind of new species. It's when they're calm and relaxed that I can capture them (us) on film and in photographs at their most natural.
My work includes photos and footage that show me as a member of the natural underwater world. In the works you can see sea creatures coming toward me with curiosity. I believe incorporating myself, a human, into the picture helps make the world easier to relate to.
In our lives, we might tell ourselves "I should do this" or "I should do that", but if our hearts don't say "Yes!", nothing will change. I truly believe it's only when one's heart is moved that he or she begins to change. It's my wish that my work and underwater expression help trigger even the slightest change.