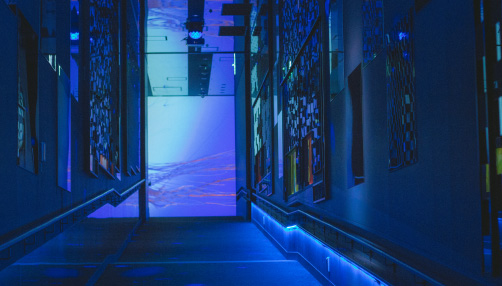 2016/03/11.Fri. 6:06
Finding Release in a Space Designed for Communication
Sumida Aquarium Director
Masao Yamauchi
In 2011, Yamauchi became the Pre-Opening General Manager of Sumida Aquarium. The aquarium opened its doors in May 2012, and in February 2015, he became its Director.
Sumida Aquarium is located inside Tokyo SKYTREE Town, a sprawling shopping complex at the base of the Tokyo SKYTREE tower. The aquarium opened in 2012, introducing itself as a metropolitan facility utilizing 100% artificial seawater. Cozy chairs have been situated throughout the venue for guests to sit with a drink in hand, and enjoy the array of sea life. The comfort of the guests throughout the space is the aquarium's top priority in a fresh take on the age-old system. We spoke with aquarium director Masao Yamauchi, who oversaw the aquarium from its conceptual and design stages as Pre-Opening General Manager.
How would you describe Sumida Aquarium?
There are currently over one hundred aquariums in Japan, and we opened in 2012 as a very compact aquarium.
There are several aquariums in the metropolitan Tokyo area, and of those facilities, we knew our space was small and that it was inside a shopping complex. That meant our exhibition space would be limited. It was up to us to come up with creative ideas in order to stand out from the existing aquariums.
Through much trial-and-error, we decided to incorporate the theme of "communication" into our space. That meant giving exhibitions an experiential element that would encourage people to come back time and time again.
There's something comforting about this aquarium, as if we're surrounded by water ourselves.
We believed it was important to exhibit in ways that would increase understanding about nature and the creatures inhabiting it.
The first way in which we do this is to create an experience. By experience, I don't necessarily mean petting the animals, but designing the space in a way that triggers curiosity and enhances the desire to learn more. Making paper creatures in our children's workshops, for example, so children can familiarize themselves with the animals. We've held workshops since we first opened.
Additionally, it's our hope that the space as a whole acts as a "sensory" environment. We've placed chairs throughout the aquarium so visitors can sit back and watch the sea creatures to their heart's content. The chairs are close enough to the tanks that guests can become very absorbed in the animals. There are no suggested routes in the aquarium, nor are there detailed wall descriptions of the animals. Visitors are encouraged to roam freely and gain knowledge in an organic way, through their own discoveries. That's what we mean by "communication".
We've been very fortunate to have the support of various corporations. In order to make this relaxing atmosphere a reality, we rely on the expertise of professionals in scenting, lighting, furniture, and music. Everything blends seamlessly so as not to distract the visitors as they turn their gazes to the tanks. As an example, the lighting has been designed so the entire aquarium is relatively dim, drawing attention to the gently glimmering tanks. The lighting and scents are adjusted depending on the season and time of day.