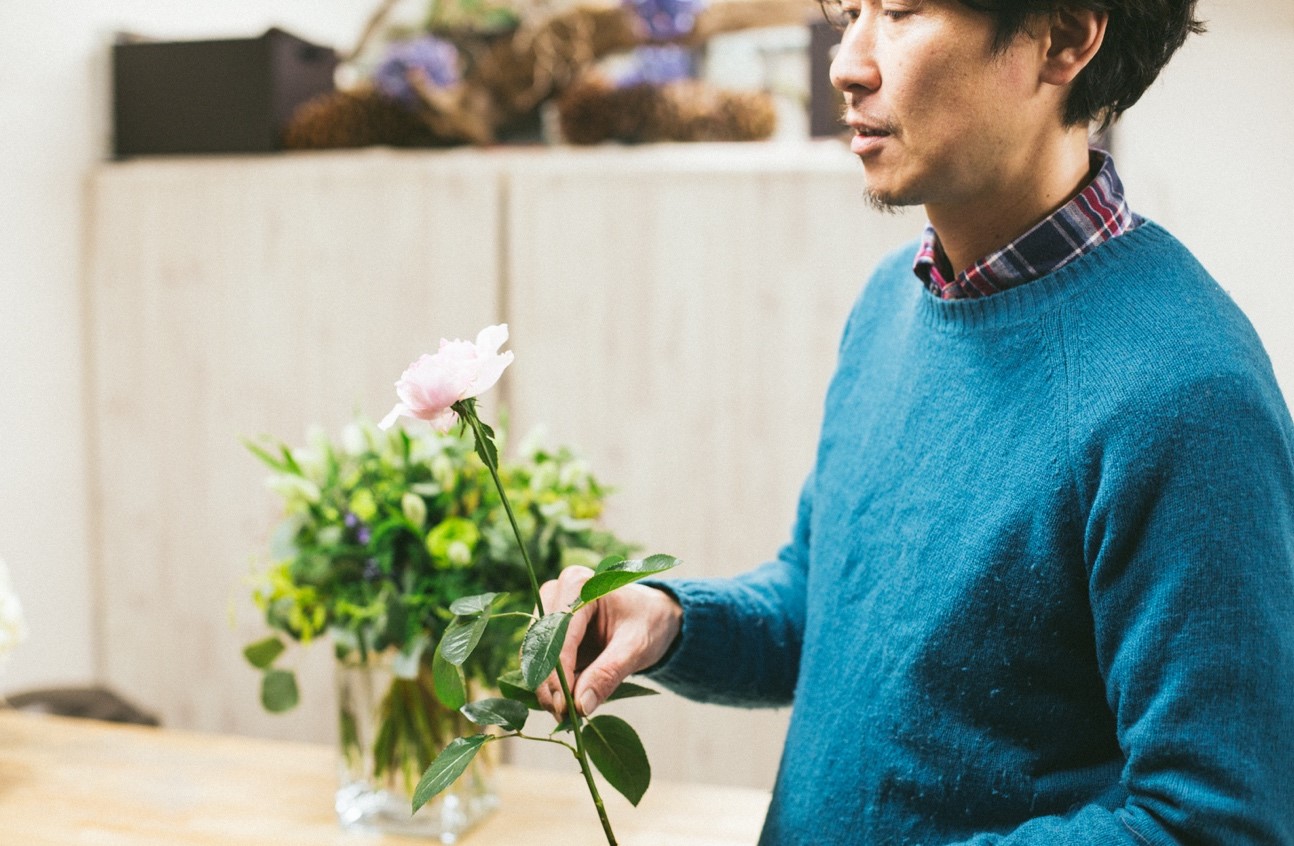 2018/02/07.Wed. 19:19
A Life with Plants: From One-of-a-Kind Wedding Décor to Everyday Indoor Greenery Vol.2
Florist
Hideyuki Miyanaga
Born in Tokyo in 1971. Joined "Hanauma in Roppongi" (currently U.GOTO FLORIST) in 1989. Became U.GOTO FLORIST Official Designer in 2002 and Imperial Hotel Shop Manager in 2003. In 2011, he left U.GOTO FLORIST and began planning and producing floral wedding decorations abroad. He shared his work for one year in the overseas magazine i Fruel. In 2013, he returned to Japan and launched ANIMUS FLORAL DESIGN.
Website: http://www.animus-floral-design.com/
Vol.2
Humans and Plants Coexisting in Harmony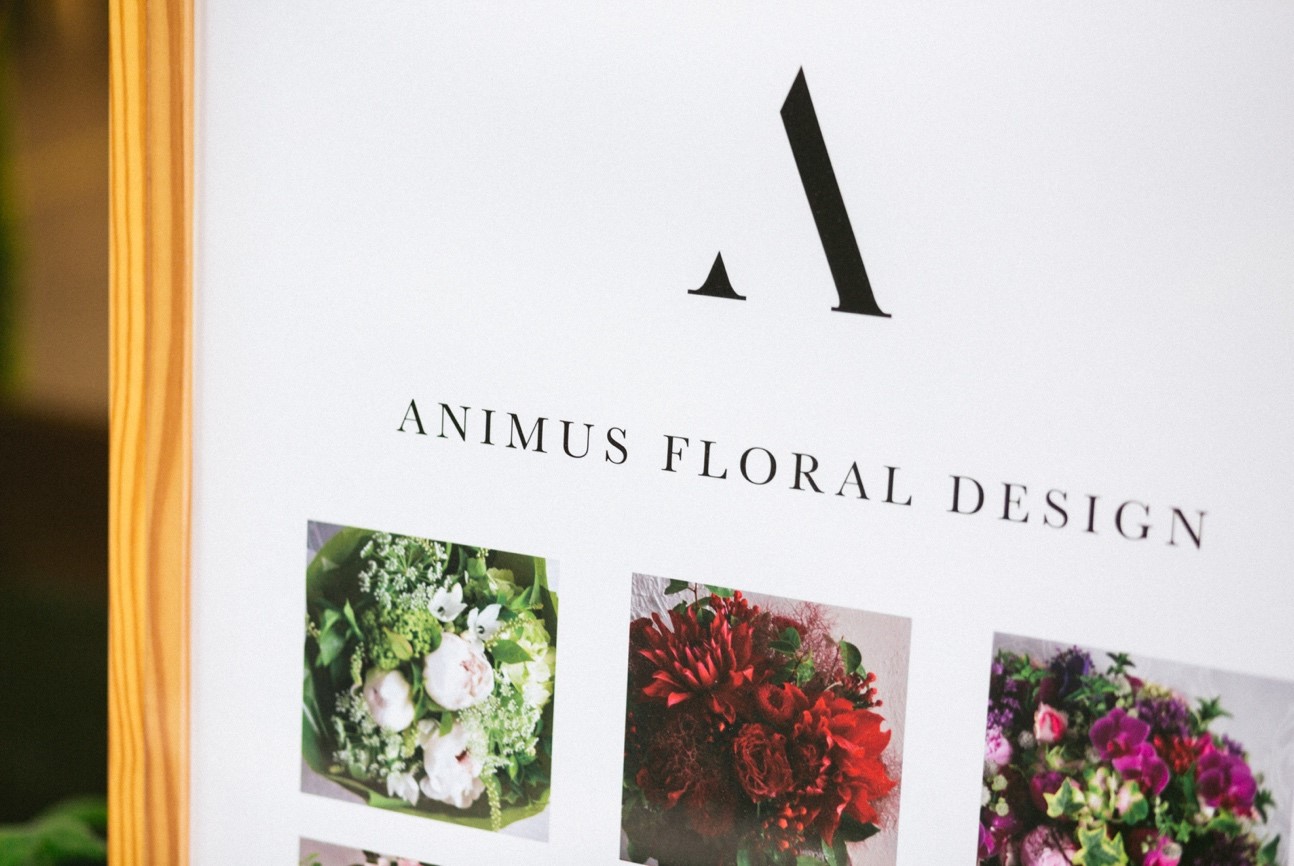 What is important to you as a florist?
To make the plants and flowers come alive.
This here on the table is a plant from New Zealand. Plants in the northern and southern hemispheres differ completely.
My brain is filled with data for thousands of plants, and when they're in-season. For weddings and event, it's important to suggest flowers that will be in season three months, maybe six months from now. That data is updated continuously, so I go to the flower market three times a week to see what new plants are on the market.
Whether it's green plants or flowers, each one comes with a different expression. It's fun to picture which flowers to pair up, and what greenery will complement that. There are countless possibilities when combining thousands of plants and flowers.
Japan is a beautiful country with four distinct seasons, and the Japanese know how to enjoy those seasons. Using flowers that can only be found during a particular season gives people a chance to appreciate the season they're in.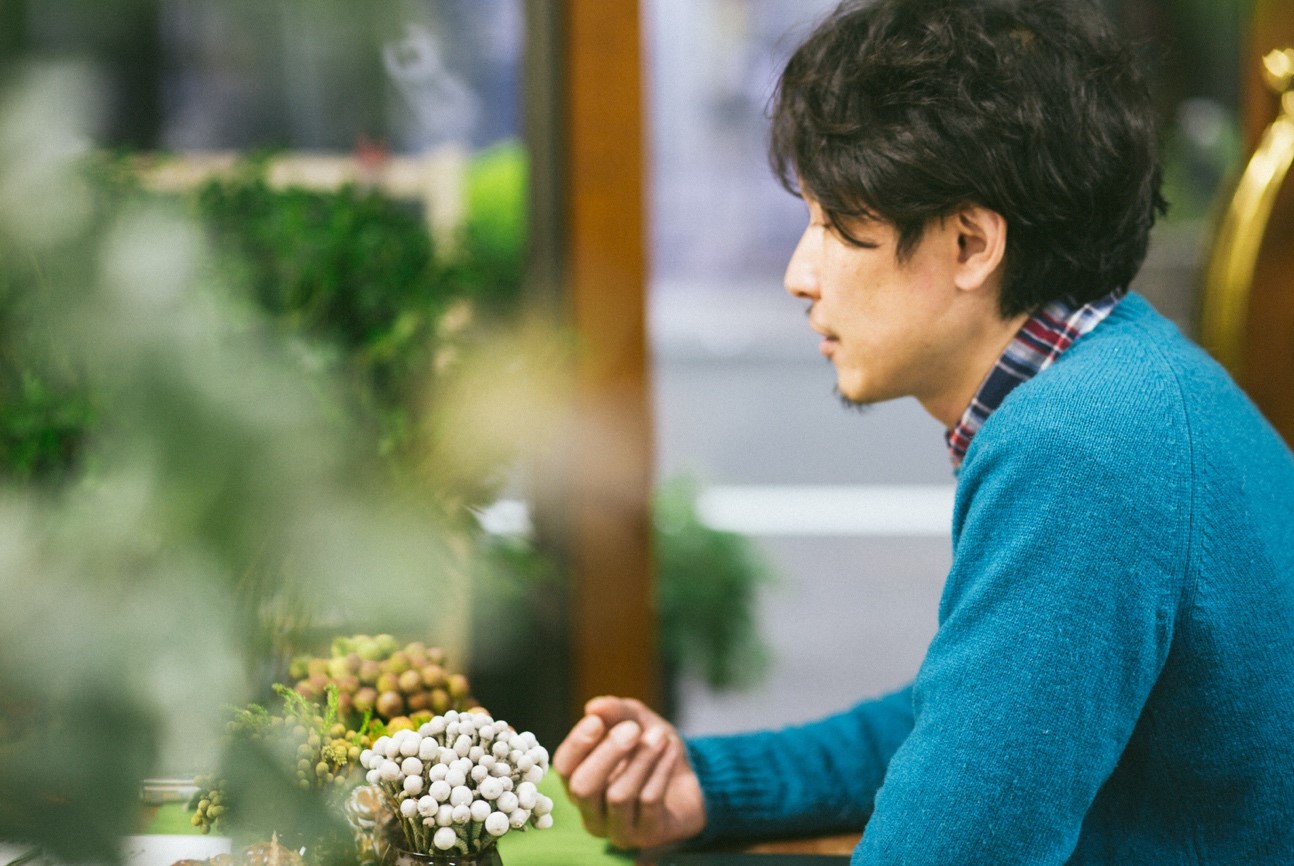 You'll see on my website that when people place an order, I ask them to tell me their story. When and where do they want to gift the bouquet, and what are their thoughts about it? Their stories affect the flowers I use, and the eventual design.
You have another job as "Indoor Greenery Designer". There's a movement right now to incorporate more greenery in offices. What are your thoughts on that?
I think it's a great idea to fill offices with greenery. Plants have a relaxing effect, and also clean the air. But when placing plants in offices, rules need to be put into place also on how to care for them.
Plants that are well-cared for, thrive. One office in the Marunouchi area in Tokyo has plants at the reception desk, and the receptionists take turns watering them. Because of their "watering system", the plants are healthy and strong, two years since introducing them. They're receiving a lot of love from the office staff there.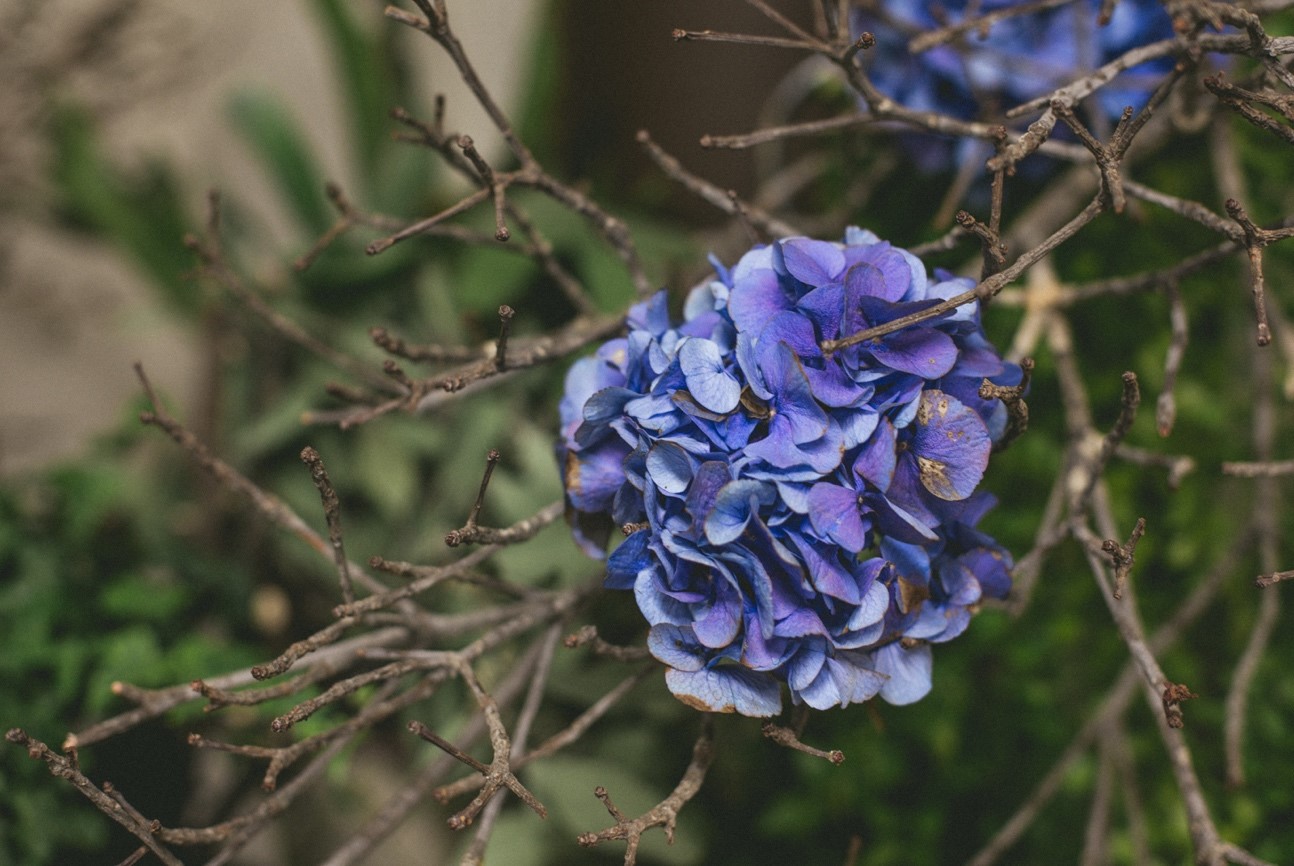 How do plants and flowers differ?
I view plants and flowers differently. The cut flowers used in floral design have a limited life span. It's a luxury to be able to experience the blossoming of a flower from a bud, and then watch it transform until it finally withers. It's a metaphor for human life.
Plants on the other hand, are our partners. They should be seen as living creatures that grow along with us.
In the ongoing effort to improve workplace environments, I receive a lot of requests for "indoor greenery design". And I can't emphasize enough how important the "environment" is for these indoor plants. I believe in creating workplaces, perhaps even in the building stages, that are filled with natural sunlight in order to help plants grow and thrive.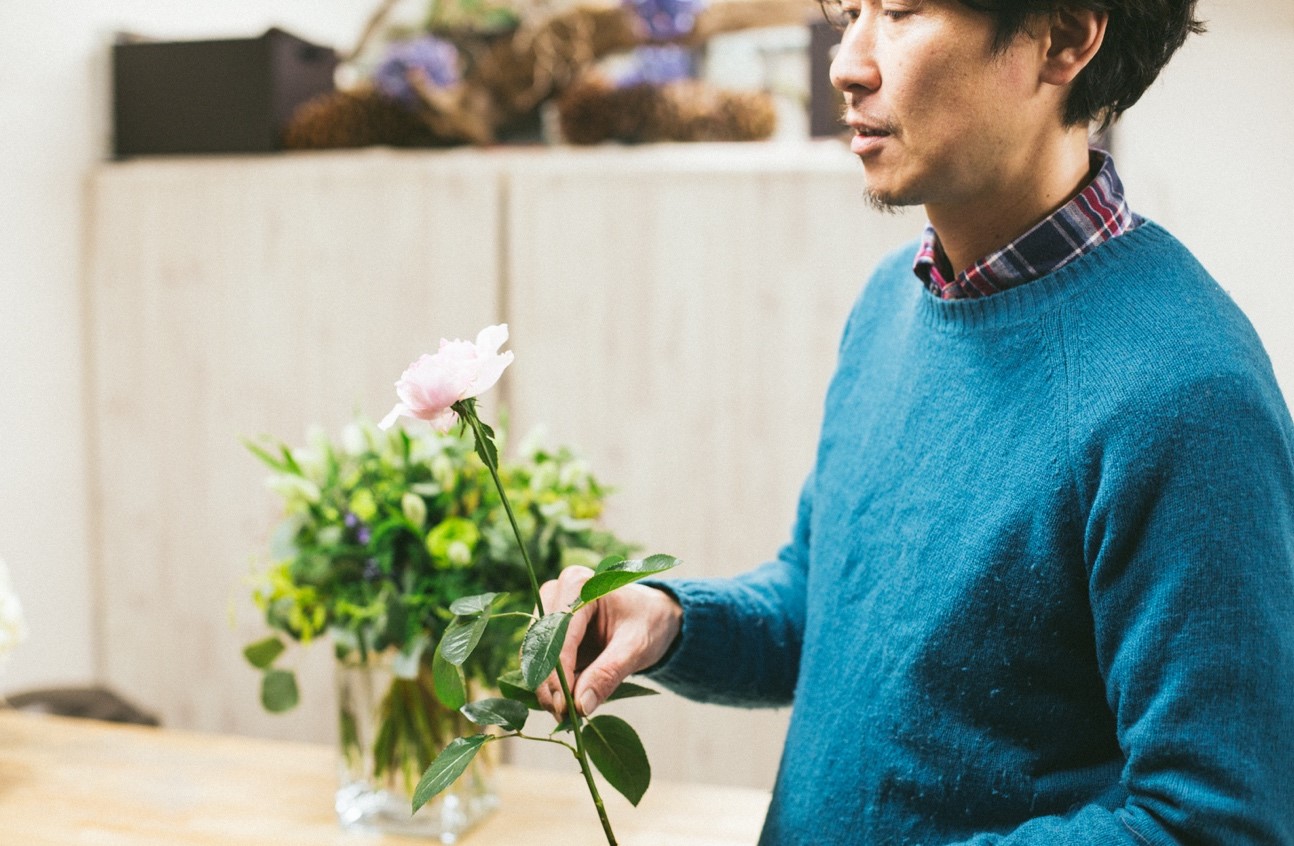 People often say to me, "I can't keep my plants alive". I don't think they realize that a relationship exists between plants and humans, and oftentimes they forget this most basic fact. Plants are living beings. I think it's essential for people to understand they are handling a form of life, and treat plants with care like they do their pets.
There are now services to rent plants for the office.
Plants need sunlight. There are artificial lights designed just for plants, but without natural sunlight, plants will begin to weaken. With rentals, experts can check in on the plants regularly and treat them if needed. This system helps to lighten the load of office staff.
I wish there were clinic-type institutions for owners of ailing plants to take their plants in. I do believe such places will be created in the near future.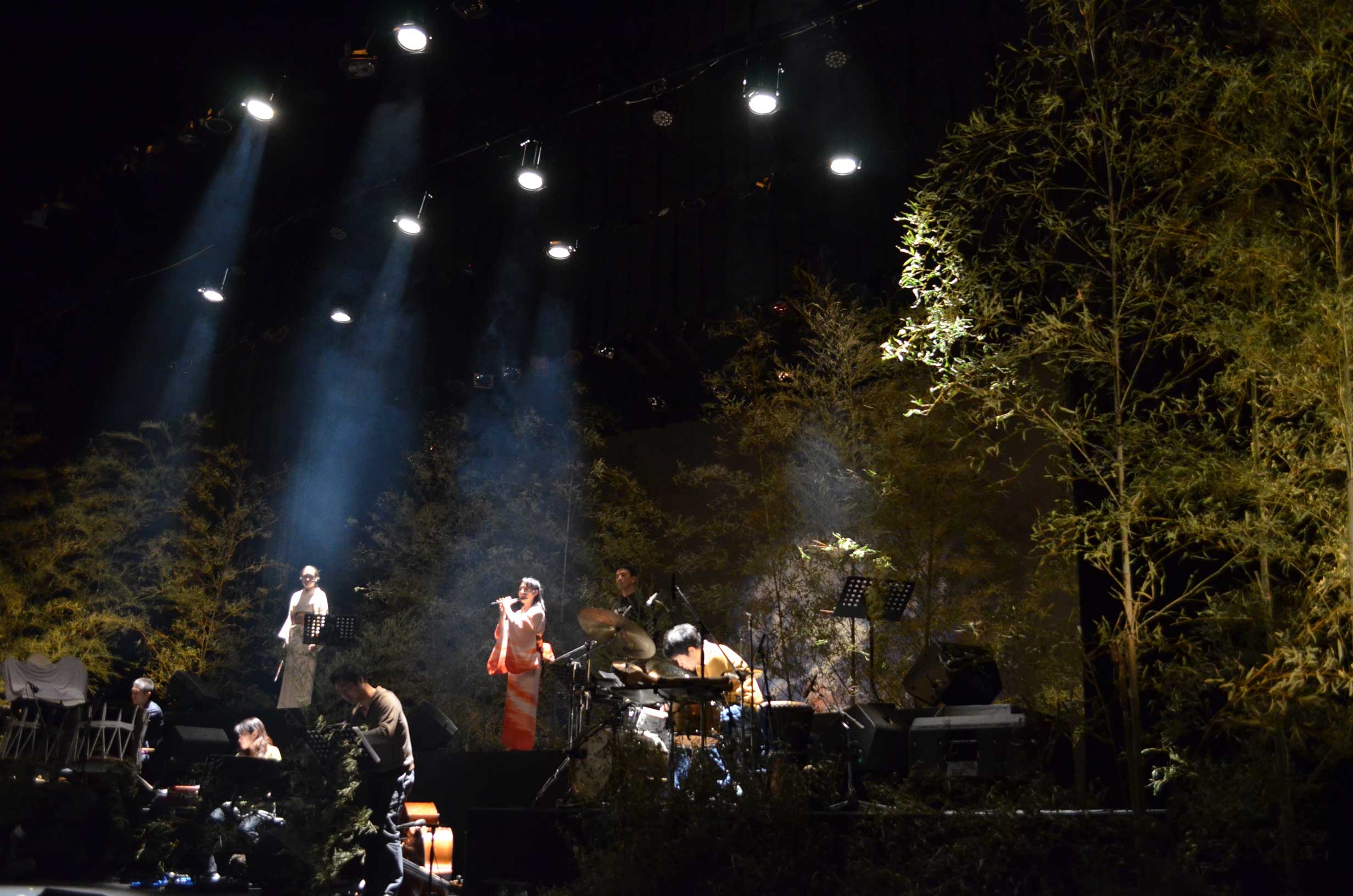 Finally, can you share your thoughts about the five senses, from a florist's perspective?
Just walking through the city, we hear the sounds of wind rustling the leaves, enjoy the rays of sunshine shimmering through the trees, and notice the changing of the seasons from the scents of flowers that are abloom around us. When the plum flowers bloom, the sweet scent triggers us to look around to see where it's coming from. And the vibrant colors help to lift our spirits.
Neither humans nor plants can live without the Mother Earth. People have long worshipped plants as the divine, using them as medicine. Placing plants on an altar, or celebrating Olympic winners with olive crowns are two such examples.
Nature is quickly diminishing, and global warming has a devastating impact on plant life. When plants are affected, humans will be as well. Humans cannot live without plants. And it is essential that we appreciate, respect, and coexist in harmony with the plants.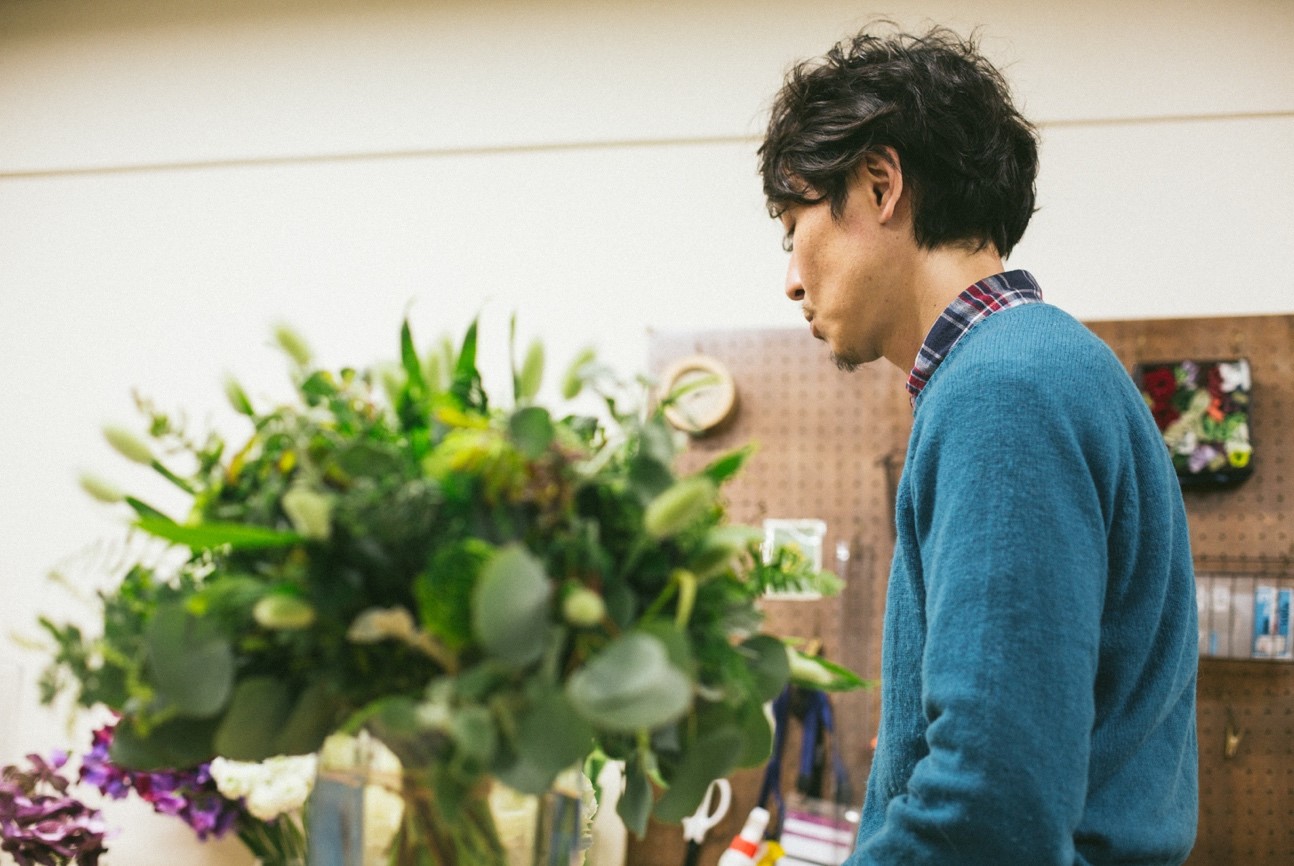 Editor's Note
Miyanaga's atelier ANIMUS FLORAL DESIGN was filled with floral works, including an arrangement from a magazine shoot the previous day, experimental dried hydrangea flowers, unique plants imported from New Zealand, silver brunia and berzelia. An artist as well as a florist, his stunning works often call for all-nighters. His love and respect for plants gave us much to think about in an interview filled with important lessons we so often lose sight of.