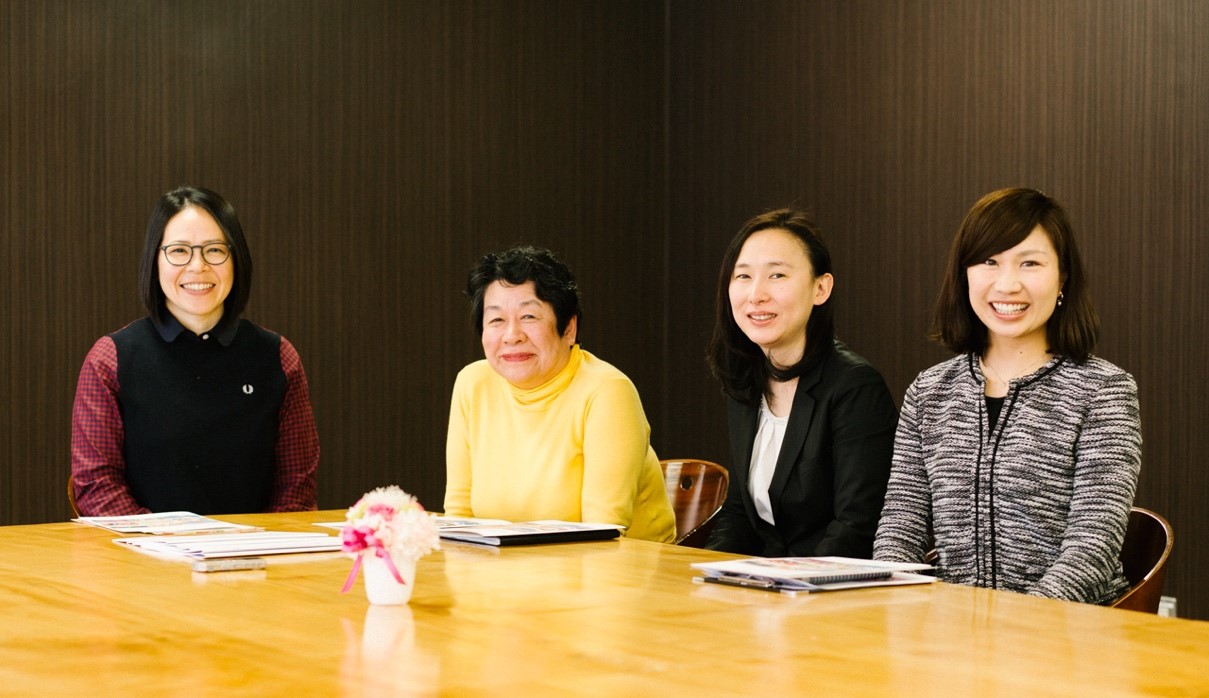 2018/04/11.Wed. 17:17
"Talent Knows No Handicap." Pasona Heartful's hiring practices teach us about happiness in the workplace.
From Pasona Heartful Inc.
Tokie Aizawa: Art Mura Team / Artist Development (Photo: second from left)
Kumika Senda: Art Mura Team / Team Leader (Photo: second from right)
Sayaka Okada: Pasona Heartful Sales Team (Photo: far right)
Pasona Heartful's activities include the following six areas: Outsourcing, Art Mura (Art Village), Art Mura Koubou (Art Village Studio), Yume Farm (Farming), Pan Koubou (Bakery), Consulting Business.
https://www.pasona-heartful.co.jp/
Interviewer: Mai Yanagawa / KANSEI Projects Committee Vice Chairperson / Air Aroma Japan Managing Director
Vol.1
Employing people with disabilities as artists


YanagawaThank you for joining us, the KANSEI Projects Committee (KPC), for this conversation today.
We at KPC believe in a society and corporate culture that allow people to fully express their sensibilities. Based on the belief that honing the strengths of individuals leads to increased productivity, we run tests and evaluations, do extensive research, and apply the results commercially for the benefit of our customers and society as a whole.
But in reality, we've seen people who are not allowed to make mistakes, and are expected to produce their best work as quickly as possible, gradually shut down their sensibilities to avoid feeling anything.
Right now, there's a lot of talk about work-style reform. One objective is to increase productivity as the country's population decreases, but the only measures discussed have to do with cutting working hours. Everyone feels changes are needed, but no one can come up with a solution.
Pasona Heartful's activities seem to be full of insight as to how to approach such issues, and I'm very excited for the opportunity to speak with you today.
Can you begin by sharing Pasona Heartful's corporate culture and your activities?
SendaTo give you an abbreviated version, Pasona Heartful's parent company Pasona Group was founded forty-two years ago with the mission, "Solving corporations' problem points". It began as a temporary staffing service to help find work for mothers whose parenting years were nearly over, and who were ready to rejoin the workforce. The hope was to provide opportunities for women to utilize their skills like they did before children. Pasona Heartful is a branch of the company, and our focus since 1989 has been to solve problems surrounding the employment of people with disabilities.
The business began with outsourcing for administrative duties, which included sending out invoices, managing business cards, and printing material for the group's corporations. But office work requires employees to be able to read, which posed a problem for those with more serious, intellectual disabilities.
As we sought solutions, we learned that a foundation started by Charles, Prince of Wales, aided the disabled and helped them contribute to society by making art. Pasona Heartful President Fukazawa wondered if he could do something similar in Japan, creating work for the disabled using art.
In 1992, we opened Art Mura based on the concept, "Talent Knows No Handicap." Our aim was to help motivated folks whose disabilities kept them from working, find independence through art.
In the beginning, we managed and exhibited art works by artists, and if and when the works sold, nearly all of the profits were returned to them. But we learned that wasn't a sustainable support system. So we reevaluated the policy and decided to hire them as artists.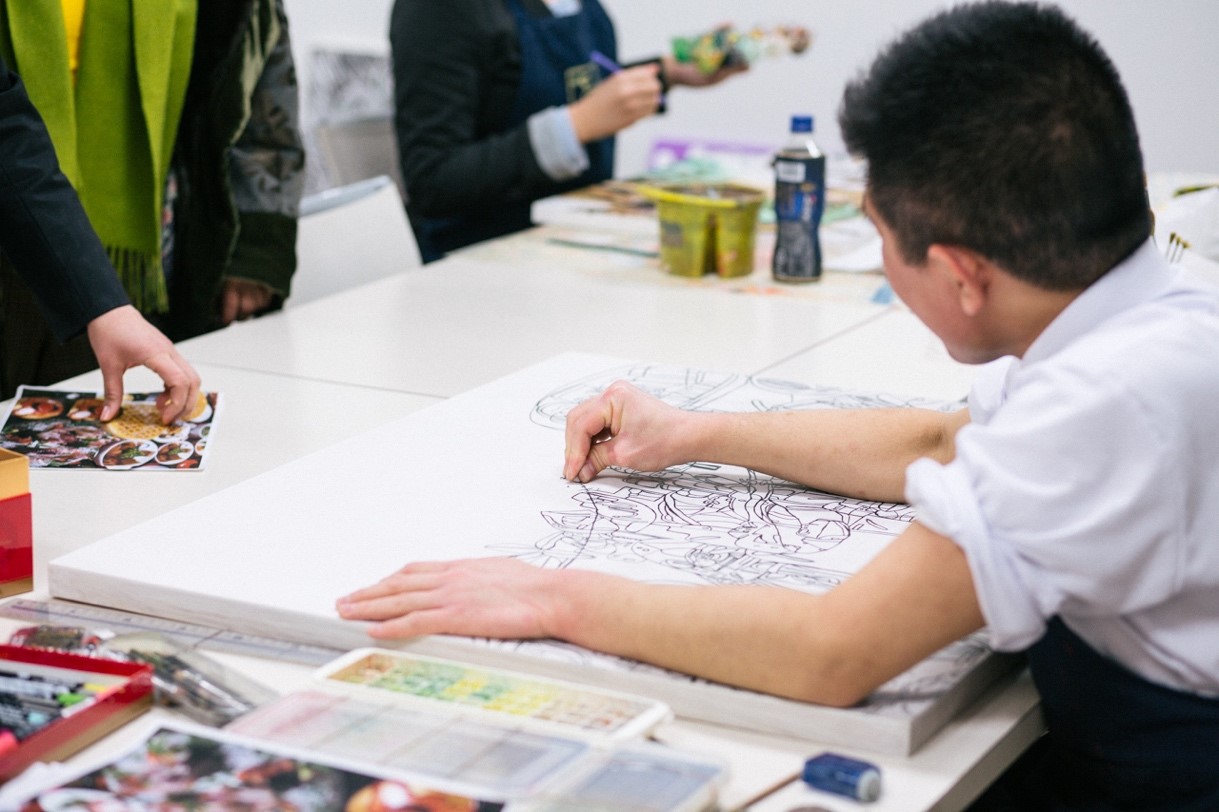 The artists now come in at a given time and create art as part of their everyday work. The works of art are sold in exhibitions, used as art materials, or turned into products such as plastic folders, postcards and smartphone cases.
At Art Mura Koubou, those who are good with their hands take the artists' works and cut and enclose accompanying cards, sew shoe and tote bags, and make preserved flowers by hand. Through those experiences, we've learned that shining a light on the disabilities, or talents as we saw them, is very effective. And that's when we expanded our company to include the Yume Farm and Pan Koubou departments.
I believe what makes Pasona Heartful different is that we don't place people in standard corporate jobs. Instead we create positions that make the most of our employees' skills.
We also run a consulting business where we share our experience and know-how with companies looking to incorporate employment practices of people with disabilities. We host discussions, training sessions, and seminars, as well as introduce potential candidates.
Also, through the creation and sales of original merchandise and commemorative items geared towards corporations, we show how supporting the disabled can lead to fulfilling CSR, or corporate social responsibility.

YanagawaIt's refreshing to hear your thoughts on creating jobs that shine a light on the "disabilities", and also recognizing their artistic abilities and hiring them as artists.
Your motto is "Talent Knows No Handicap". Is it your belief that a person of any disability possesses a talent?
AizawaMy take is a little different. Many who work here as artists, those with visual talents like painting, deal with autism. While it's true that "talent knows no handicap", in the case of autism, I believe "disability gives birth to talent". From the colors they choose to the lines they draw, their gifts are astonishing.
YanagawaFigure skater Yuzuru Hanyu, who won the gold medal at the Pyeongchang Olympics, said he wouldn't have won the gold medal had he not gotten injured. He's of course supremely talented, but I thought his ability to overcome adversity made him more polished as a skater. Ms. Aizawa, you provide guidance to the artists here. Do you have any thoughts about that?
AizawaMany artists who work here have experienced bullying at one point in their lives. Because they're different from others, because they cannot do everything others can, they've been bullied, or have been denied in some way.
Here, they receive a salary for drawing pictures, and we expect them to abide by certain rules as citizens in the workforce. They're expected to greet guests, say hello and goodbye when they come and go from work, and respect their co-workers. We expect things of them.
But when it comes to painting, we support their artistic expressions 100%.
YanagawaI saw the drawing of the sunflower by one artist. I was also shown what he drew when he was still in school, and it was completely different.
His past drawing was a relatively standard, ordinary sunflower, but the recent one had transformed into something truly unique.
The common understanding is that people improve their drawing skills by learning new techniques. But it appears these artists are able to create one-of-a-kind works when their talents are freed.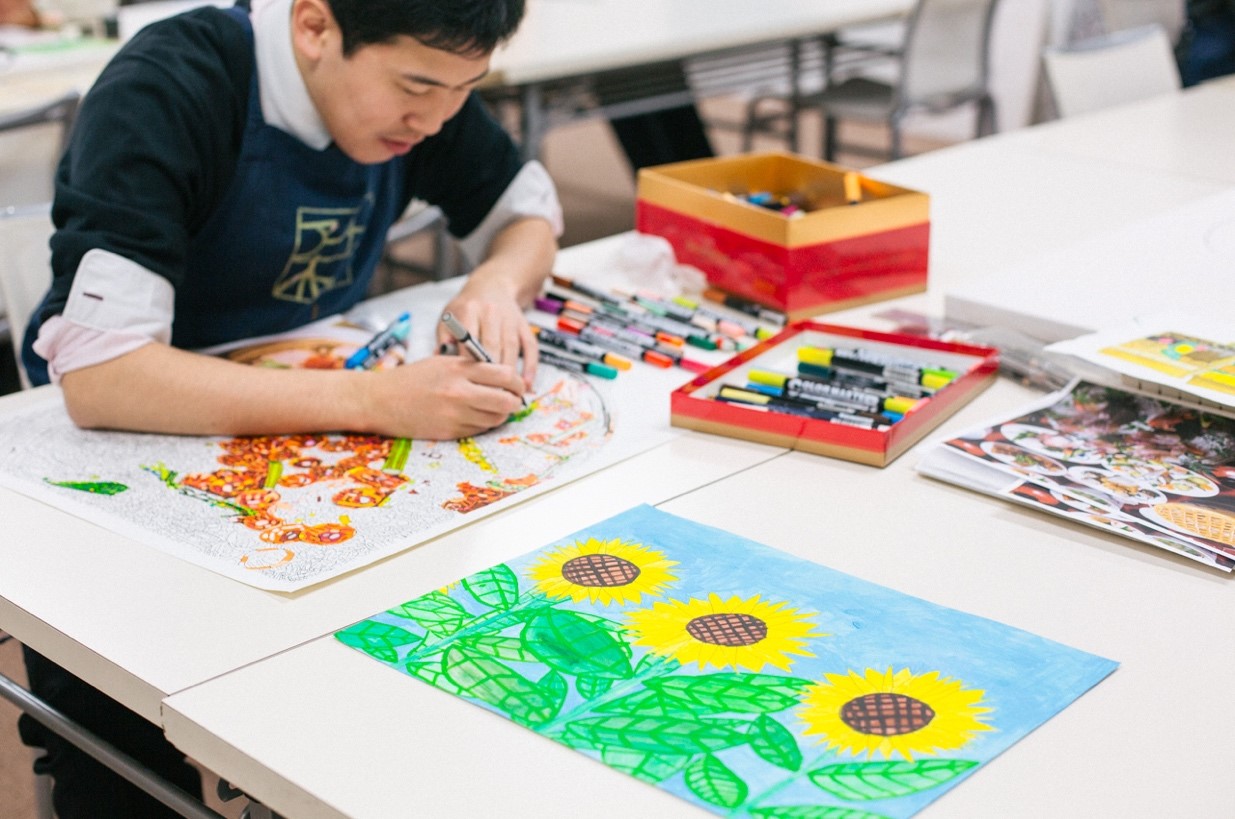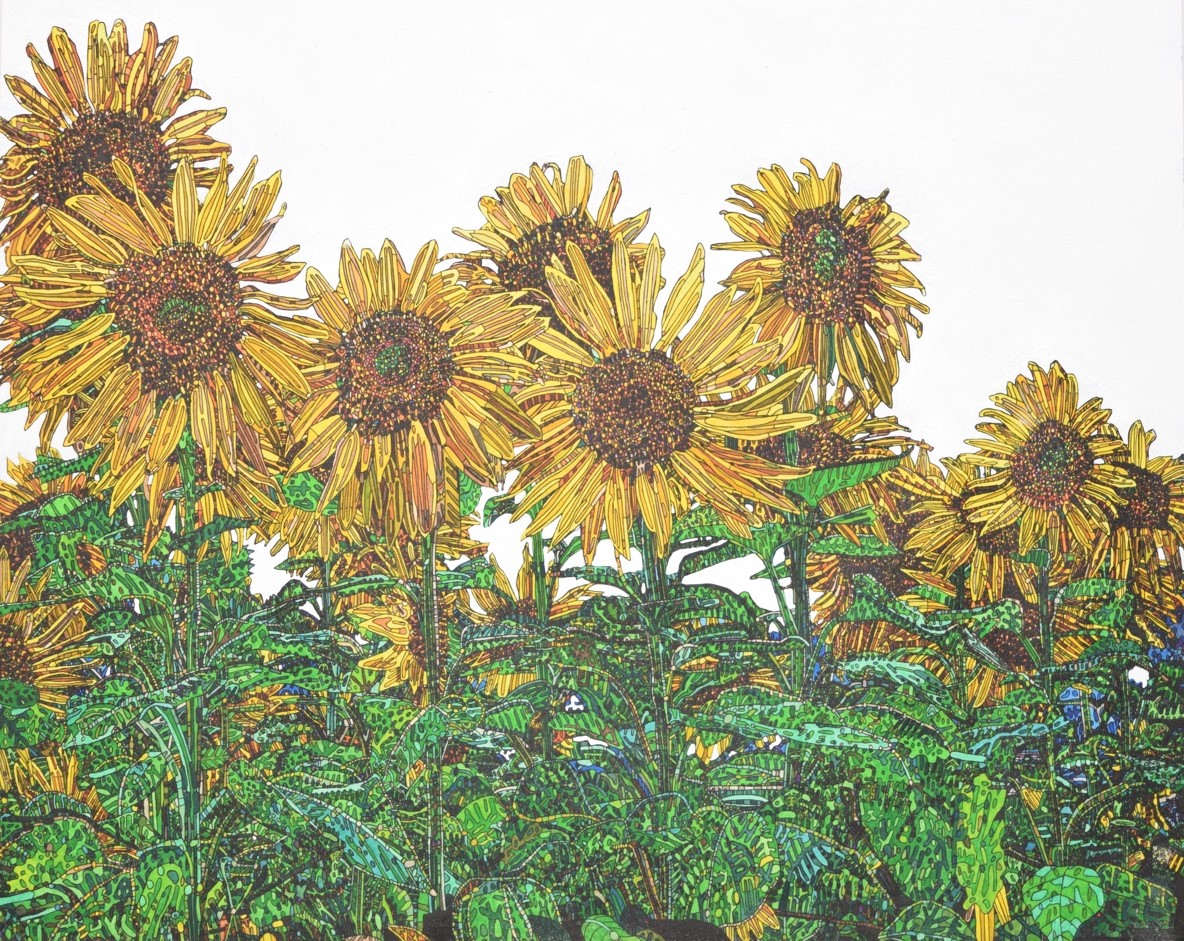 AizawaIt's not good enough for people to say, "This is nice for a disabled person" or "It's like a regular person drew it". Our goal is not to have them draw "like a regular person". We see value in their unique expressions.
And another thing. We never tell the artists, "Please draw freely." The phrase "draw freely" comes with its own fixed notions, which often ends up being the exact opposite of freedom.
I believe they grow most as artists when they're given just the right amount of limitations and boundaries. Limitations and boundaries can come in the form of a painting theme, for instance, or the specification of art supplies. We only do this with people we're sure can handle the limitations, of course.
YanagawaAre there any issues that come to mind while guiding the artists?
AizawaI think what will become an issue in the near future is exhaustion, as the artists age. Their disabilities cause many of them to be extremely focused on the work. And that can result in exhaustion. We've noticed a striking tendency to age once they've passed 45.
Artists in their late twenties are extremely energetic and productive. But as they grow older, their ability to concentrate diminishes, and a few artists become less able to focus on their work. They seem to experience a fatigue that we cannot imagine.
YanagawaHow do you work with artists in that situation?
AizawaRight now, we ask for support from their family to help them continue the work. We thought about how they can complete the work they are being paid to do. As a company, we believe this is going to become a real challenge.
YanagawaAre employment conditions, such as retirement, based on the company's provisions?
SendaYes, employment conditions with regards to retirement and paid holidays are the same for disabled and able employees. But we do need to think about how to support our artists as they grow older.